My Little MVP
Well things have been at a standstill as far as physical work to do in the room. This week I will be buying the last few things I need in the room such as blinds, a light fixture, chaning table and a mattress so I will have more work to do there. In the meantime I've been "shopping" (aka pinning things on Pintrest) for decorations to bring the room together. The design concept is a sports theme Which D picked based off the bedding set "My little MVP" by Nojo.
We got the bedding set used on craigslist for just $50 which is a great savings since it's like $180 new. The bumper and crib skirt are in perfect condition and the quilt is pretty good. The only problem is that after it got washed some of the appliques pulled away from the stitching which I read in the reviews has happened to others. Im not really worried about it, the set has a rustic feel about it anyway so I think it looks fine. I am going to buy some fabric tape to keep it from pulling up and fraying any more.
One in a set of 4 pieces of art from Etsy
Since this set is still current I have all the extra accessories on my registry like the valances, the hamper, and the light but I've found a lot of other decorations for the room that I would love to put in there. The problem is they are on Etsy so I can't just throw them on my babies r us registry and so far I don't have the funds to buy them myself. I think I am going to try to find some stuff around the house that I can sell on craigslist for starters and raise some money that way and I am going to try to put together a universal registry if I can find one I like working with. Amazon's is okay but it doesn't really categorize things well and doesn't always transfer pictures. I wish I could just use Pintrest as a registry everything I like is on there lol but not everyone has an account.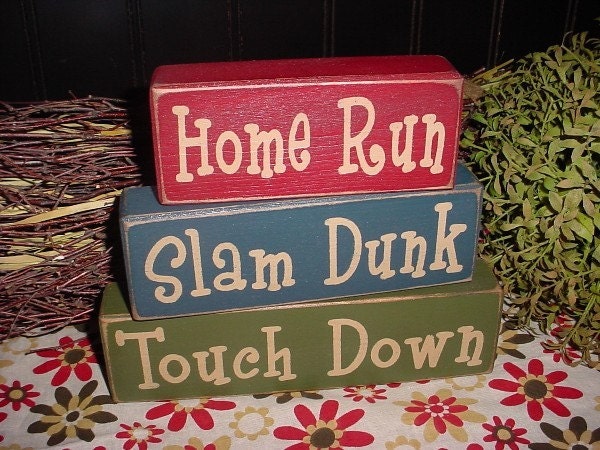 Blocks from Etsy
So anyway that's what I've been up to and where I am at. Hopefully I will make some progress this week with the blinds and light at least.
Links
My Pintrest Page
My BabiesRUs Registry
Etsy